Q
uestions Frequently Asked
Does it stain?
This is the question I get asked most often- almost daily in fact. Only a few times have we ever had a problem with coloring left behind from a few of the activities. All it took was a spray bottle of bleach and a sponge and all coloring has always come right off. We have NEVER had a problem with permanent staining! For more cleaning tips visit
our tips and tricks page
.
How do you have time to create these baths?
While there are lots of simple ways to make bath time fun I do go all out for many of these baths. It is a hobby and creative outlet for me. Just as with any hobby I use my down time. I wait until my husband is home to watch the girls while I set up the more extravagant baths. We also reserve those super baths for once a week and stick to more simple bath play the rest of the time
R
egular Old Fashioned Fun
Safety - Always stay within an arms reach of your children when they are in the bath. Children can die in just a few inches of water in a matter of 20 seconds. Please gauge all activities to the comfort and readiness of your individual child.
T
ips & Tricks
-
visit
our tips and tricks page
for lots of helpful bath time information From what works to what doesn't, we have surely learned a few things along the way.
Y
oung Babes
- Baths for the littles

~~~~~~~~~~~~~~~~~~~~~~~~~~~~~~~~~~~~~~~~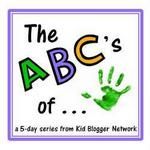 The Kid Blogger Network brings you the ABC's of all things parenting, play, crafts, learning and exploring. Check out all the different topics that are being covered by clicking on the image above. I'm being joined in the Learning Through Play category by 16 other bloggers to bring you Creative inspiration. Check out their posts below throughout the week.